ScotiaCard
ScotiaCardTM Visa* Debit with Chip Technology

You can rest easy and get on with your day.

Your ScotiaCard Visa Debit is the same card you know and trust, now with the enhanced security of proven technology.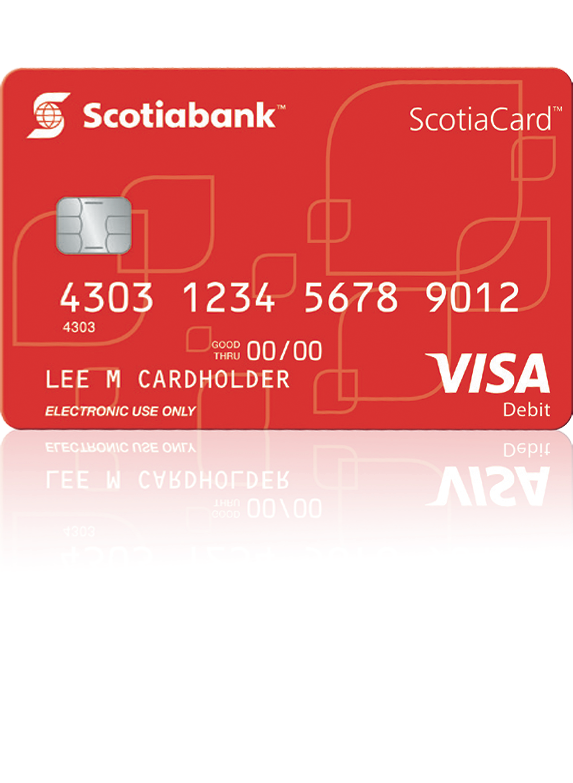 ScotiaCardTM Visa* DEBIT with Chip Technology

Mini Chip. Mega Protection.

Your transactions are more secure than ever, when you use your chip card, along with your Personal Identification Number (PIN) in a chip payment terminal or at ATMs.


Greater Access. Worldwide Acceptance.
Access the funds in your account at ATMs with Visa or Plus logos displayed, and to make purchases anywhere Visa is accepted. Online shopping included.

The evolution of payment. 
In the palm of your hands. 

Make purchases anywhere VISA is accepted, worldwide, online shopping included.

Safer than carrying cash and easier than writing cheques.
 You can use your existing PIN†*
 No fees associated with the issuing of the Scotiabank Visa Chip Card†*
Same access to your account through Self Service banking channels: 
Telescotia (Telephone Banking)
Scotia OnLine (Online Banking)
ATMs that display the Visa or Plus logos
All purchases and transactions are listed on your statement. 

Insert your Scotiabank Visa Debit Chip card into the Point of Sale terminal and leave it in the device for the duration of the transaction to enable electronic authentication.
Follow the prompts on the screen and enter your PIN to verify transaction. 
When the transaction is complete, the screen will instruct you to remove your card and wait for the receipt.
® Registered trademark of The Bank of Nova Scotia, used under licence (where applicable).
™ Trademark of The Bank of Nova Scotia, used under license. 
* Indicates a registered trademark of Visa International Service Association. Used under licence by The Bank of Nova Scotia.
†*If you do not remember your PIN, you will get a new one. In order to get your new PIN, you will need to provide two pieces of ID. Fees may apply for ATMs outside of the Scotiabank network.