Scotiabank/Habitat Build a Home Promotion Wraps Up - Over $1.5M Raised from donations and fundraiser
Georgetown, November 22, 2013 – Over $1.5M has been raised by the Scotiabank/Habitat partnership to build a home for Amanda Anthony, a widowed mother of two with a disability.
The Scotiabank/Habitat Build a Home promotion wrapped up earlier this month with the final customer draw at the bank's Robb Street branch and a fundraiser by the Carmichael Street branch staff.
The winners of the draw were Rudolph Wong of the Carmichael Street branch,($150,000.00 gift certificate for Courts); Roy Myers of the Carmichael Street branch ($125,000.00 gift certificate for King's Jewellery World); Mustapha Rohoman of the Robb Street branch ($100,000.00 gift card for Gizmos and Gadgets); and Michael Penville of the Carmichael Street branch ($50,000.00 gift certificate for Nigel's Supermarket). Early November, Scotiabankers from the Carmichael Street branch ditched their uniforms for sassy clothing from C&C Prestigious Styles, putting on a fashion show and party for colleagues and friends.
That event raised $117,000.00 which was presented today Friday November 22, 2013 to Amanda Anthony in the presence of officials from Habitat. The innovative and exciting Build a Home promotion sought to involve customers, employees, the public, and other stakeholders in one of the Bank's major Bright Future philanthropic initiatives.
Under this promotion, Scotiabank donated to Habitat for Humanity Guyana Inc. a percentage of the value of Scotia Plan Loans, Auto Loans, and Mortgages applied for and disbursed between March 1, 2013 and October 31, 2013. Those who didn't need a loan but were desirous of donating, did so directly to Habitat. Customers also got a chance to win gift certificates for loan instalments, jewelry, hardware, spa treatments, groceries, electronics, and clothing by entering into quarterly draws. At the time of disbursing the loan proceeds, customers received entry coupons commensurate with the amount of the disbursement. Scotiabank has committed to building three more homes over the next three years with financing and employees volunteering, under its Bright Future Programme.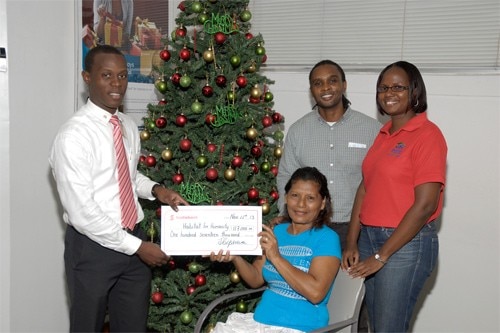 Scotiabank is committed to supporting the communities in which we live and work, both in Canada and abroad, through our global philanthropic programme, 'Bright Future'. Recognized as a leader internationally and among Canadian corporations for our charitable donations and philanthropic activities, Scotiabank has provided on average approximately CDN$47 million annually to community causes around the world over each of the last five years. Visit us at www.scotiabank.com.

About Habitat for Humanity Guyana Inc.

Beginning its work since 1994 following an invitation from then President Dr. Cheddi Jagan, Habitat for Humanity Guyana was officially registered in Guyana in 1995. Since then the organization has supported over 3000 families within the country's ten administrative regions, through partnership with affiliates, home partners, volunteers, and sponsors to build simple, decent and affordable housing for low income earners. Also, the organization has undertaken home repairs, rehabilitation works, and assisted in accessing secure tenure. With a new program direction added focus will be placed on community development, disaster risk reduction, and social action and awareness. Via resource centres the organization seeks to make a stronger impact on communities through training, mobilization, and planning of various community driven projects.
For further information:
Jennifer Cipriani (Scotiabank) Cell: 623-6141 Email: jennifer.cipriani@scotiabank.com
Colette Hytmiah (Habitat Guyana) Office phone: (592) 223-6366 Email: colette.hytmiah@habitat.org.gy